QuickSYS Informer - System Information Right at Your Fingertips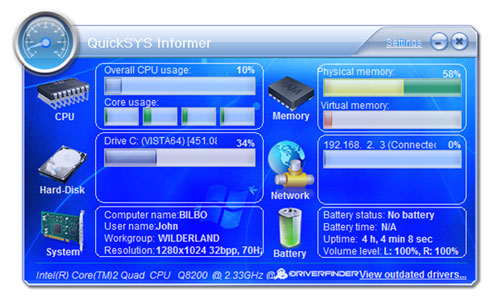 What is QuickSYS Informer?
QuickSYS Informer is a handy freeware utility that enables you to immediately see the status of your local system resources. It's professionally designed interface is very intuitive as it makes use of horizontal bars to illustrate real-time system usage.
Why Do I Need to Know My Local System Resources?
It's good to keep track of your system resources so you can easily spot potential problems. For instance, say your PC is especially slow today; a quick look at your system usage may reveal that your system is running low on memory (physical or virtual). A full hard disk can be another cause of a slow PC. On another note, high network adapter usage can explain why you cannot connect to certain sites that you normally can access.
If you know how your system is using its resources, you can easily prevent or troubleshoot problems.
What Does QuickSYS Informer Monitor?
QuickSYS Informer tracks the following:
CPU usage;
Hard disk usage;
Memory usage;
Network adapter use; and
Battery life (for notebooks)
QuickSYS Informer Features
Tracks up to two hard disk drives
Tracks up to two network adapters
Adjustable refresh rate (i.e., the rate at which QSI shows changes in system resource use)
Professionally designed, easy-to-use interface
1-click, quick system information status
QuickSYS Informer Benefits
Saves time; diagnose PC problems sooner
Saves money; prevent system resource-related problems before they occur
Helps gauge if it's time for any system resource upgrades
For non-techie users, know system processing information, display monitor resolution, and others at a glance
How Much Does QuickSYS Informer Cost?
Here's the best part: DeskToolsSoft™ has created QuickSYS Informer for your FREE USE. It's freeware that has no expiration; nor are there limitations as regards its use. Simply download, install and enjoy.
System Requirements
Windows 2000, 2003, XP, Vista, or Windows 7 (32 and 64 bit versions)
1.4 MB free hard disk space